RESTAURANTS
When on Lake Como, Craig Brown does as the Italians - and the famous - do and visit the Locanda dell' Isola Comacina
by Craig Brown
As attentive readers of this column may have noticed, I am a keen spotter of celebrity photographs on restaurant walls. Over the years, I can claim to have spotted pictures of all the major British stars - Reg Varney, Clodagh Rodgers, Tommy Steele, the lot - their flamboyant autographs often accompanied by a personalised message to the restaurateur ("To Frank and Lin - In appreciation of the truly superb grub! Ever yours, Terry Scott").
But in recent years, the modishly spartan design of the new juggernaut restaurants has accelerated the decline of the celebrity photograph. Nowadays, you are almost as likely to find a restaurant wall decorated with three duck as the Three Degrees. So imagine my joy when, on a recent trip to Italy, I discovered a treasure-trove of these photos in a restaurant on the edge of a little island on Lake Como, all the celebrities pictured with their arms around the beaming proprietor, Benvenuto Puricelli.
And what celebrities! Arnold Schwarzenegger! Elton John! Bruce Springsteen! Gianni Versace! Ursula Andress! Sylvester Stallone! Kirk Douglas! There was even one of Mr Puricelli with Dr Christiaan Barnard, certainly the handiest of dining companions if ever one's beef proves tricky to carve. But what had led all these superstars to visit a restaurant on a small island serving only house white and a compulsory set menu that has remained unchanged down to the last pat of butter since 1984? In a spirit of inquiry I set off as a passenger in a little ten-seater traghetto across the 200-yard stretch of water from the mainland to the Isola Comacina, an island small enough to walk around in 15 minutes. For such a tiny place, the Isola has had a notably topsy-turvy history, acting as a home-from-home for superannuated monarchs, aspirant saints and bearded pirates. Its most disastrous error occurred in 1169 when it declared war on the mainland: it is now rich in ruins, and little else.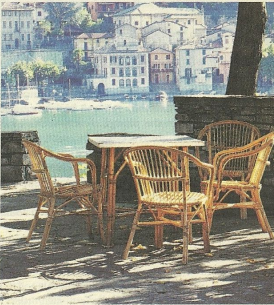 The restaurant is the only building visible on the island, though rumour has it there's a house for painters tucked away in the bushes. The building itself is at best nondescript, like an ungainly Swiss chalet, but its view of Lake Como is spectacular. Happily, we had fine weather on the evening of our visit, so everyone was eating on the terrace. The inside looks rather ugly and functional, the hundreds of paintings hanging on its walls perhaps purchased in a job-lot from the railings at Piccadilly on a particularly poor Sunday. We were shepherded to a table for four, sandwiched between two tables for at least two dozen, one of them a wedding party. The Locanda is obviously not only a place for tourists, but a destination for special events for the ordinary inhabitants of Como. In fact, the most striking thing about it was quite how un-chic it seemed. Our table and chairs were basic, and the house Soave was served in glasses more commonly to be seen in the more down-at-heel primary schools. Within five seconds of being seated, antipasti were arriving at our table from every angle, and in Billy Bunter portions: vast melons, mountains of beetroot, carrots, prosciutto, slices of thick-cut ham, onions roasted in their skins, courgettes, salami, red peppers and fagioli, all of them gloriously fresh and simple, and served with a long stick of bread. One might have thought that dishing up exactly the same meal twice a day for 14 years would have staled the enthusiasm of Mr Puricelli and his team, but I could detect no sign of corners being cut. All the antipasti were bursting with taste joie de vivre. I particularly liked the slices of tomato served on very thin slices of lemon, the clear instruction from the waiters being to eat tomato and lemon all in one go. I had previously associated lemon-eating only with those desperate to elbow their way into the Guinness Book of Records, but lemons as succulent as Mr Puricelll's could make record-holders of us all.
Yet more plates began arriving, this time with grilled trout swathed in salt and lemon and olive oil. "The thing about this place," observed one of my companions, "is that most restaurants obscure tastes or make them too complex, but here they make everything taste purely of itself: the ham tastes incredibly hammy, the trout incredibly trouty."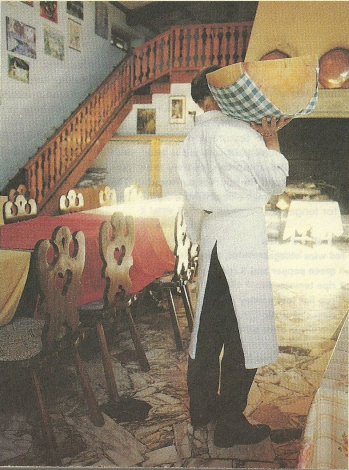 At about this point, we began to wonder how much more there was to get through: one of the few disadvantages of having no menu is that it is impossible to gauge what stage of the meal you are at, so that you don't know whether to save room for later or not. It later emerged that we were halfway through, so we needn't have held back. After the trout, on came the chicken, an upmarket version of Kentucky Fried. If I have one criticism of the menu, it was of this chicken, which is really too pedestrian a meat to serve as a centrepiece. It was followed by a pudding of sliced oranges with ice cream and a dense and delicious orange sauce. I had already suspected that Mr Puricelli was no shrinking violet (his historical brochure of the island contains no less than 26 photographs of him, plus facsimiles of letters from previous bosses singing his praises) but I was still not prepared for the ten-minute ceremony he conducts before coffee. Dressed in a funny cap and employing fire and gobbledegook in equal measures, he ritually exorcises the island from a Curse laid upon it by the then Bishop of Corno as long ago as 1169. One would have thought that two exorcisms a day for the past 14 years might have done the trick, but apparently not.
While the others were recovering from the exorcism over a liqueur coffee, I went inside and had a snoop at more of the celebrity photographs, including the unexpected (Joan Baez, Joe Cocker), the ubiquitous (Richard Branson, Michael Winner) and the by-the-skin-of-their-teeth (Dale Winton, Samantha Eggar). Never have I been to a restaurant in a more beautiful location; seldom have I been to one more eccentric, self-confident and competent. And for all its razzle-dazzle, it is not all that expensive: less than �40 a head for everything, wine included. �

Locanda deirisola Comadna, Ossuccio, Lake Como, Italy 00 39 0344 55083 Open daily from 1 March to 31 October, noon-2 pm and 7pm-late. Closed on Tuesdays