THE HOLY GRAAL (or HOLY GRAIL)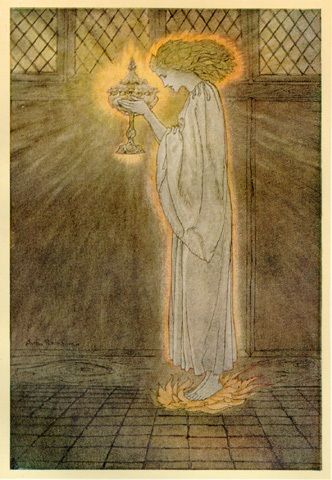 During the Last Supper Jesus took the bread, he broke it and he said: take and eat, this is my body; then he took the goblet and said: drink all, because this is my blood of the alliance poured for all in remission of the sins.
The day after, Friday of Passion, Jesus was crucified. When he was taken from the cross, one of its disciples, Joseph of Arimathea, wrapped him in a sheet and carried him in the family grave. While the body of Jesus was washed and prepared for being buried, some blood drops of, excited from his wounds; Joseph collected it in the same goblet that was served for the consacration of the Last Supper. Joseph left Palestine and brought to Britain the Holy Graal, here it remained for 5 centuries, entrusted the clergymen of the church Aquae Sulis.
In the VI century because of the threat of pagan armies they wanted to carry it in a surer place. Therefore a clergyman charge to carry it to Rome to the Pope. But when he arrived to the Comacina island, because of the Longobards invasion, he was forced to stop. To the Holy Graal was given the merit of the succeeded resistance against the Longobards and it was build one church (on the island) in its honor.
With the victory of the Longobards on trying to carry the Holy Graal in safe, hiding it in a lost place in Val Codera, from where its traces have gone lost.
The Holy Graal is found again in the literature of the cycle bretone. The first to name it was Chretien de Troyes in its work "Perceval the Gallois ou the Compte du Graal" in 1190. It becomes an central element in the historys on King Arthur.